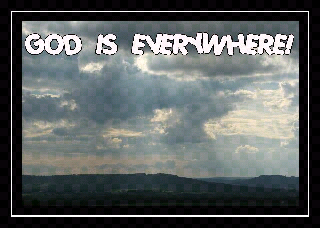 Do you ever feel like god is so far away? Like He's not even around or paying attention? Rest assured that God is everywhere and is aware of it all.
The eyes of the LORD are in every place, Keeping watch on the evil and the good. Proverbs 15:3
When you feel like god has deserted you, please remember that it is not god who has changed, or moved… IT WAS YOU!
Don't ignore His presence or decide you no longer need or want Him. He is there you just have to listen and be obedient.
• Take comfort in knowing god is with you.
• Listen to the quiet voice.
• Talk to Him and seek His guidance. Don't do things on your own.
• Let him know you are grateful for Him because of who He is and not only for the things He has done. Thank Him and Give Him Praise!
Celebrate God's presence regardless of what you are going through, whether you are happy or sad.
Every good gift and every perfect gift is from above, and comes down from the Father of lights, with whom there is no variation or shadow of turning. James 1:17
God is ALWAYS There!!!